Category Archives:
Breakfasts
We decided to have a little fun with eggs.  🙂
Recipe:   1 Egg
Preparation:   Cook on Sidewalk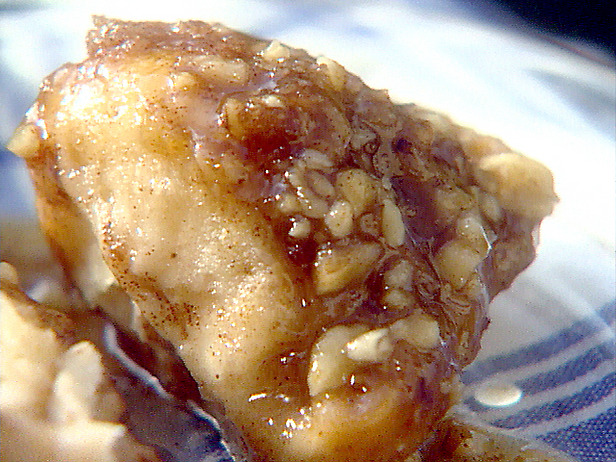 Here's a great recipe for Gorilla Bread that we discovered on Paula's Home Cooking.
Ingredients
1/2 cup granulated sugar
3 teaspoons cinnamon
1/2 cup (1 stick) butter
1 cup packed brown sugar
1 (8-ounce) package cream cheese
2 (12-ounce) cans refrigerated biscuits (10 count)
1 1/2 cups coarsely chopped walnuts
Directions
Preheat the oven to 350 degrees F.
Spray a bundt pan with nonstick cooking spray. Mix the granulated sugar and cinnamon. In a saucepan, melt the butter and brown sugar over low heat, stirring well; set aside. Cut the cream cheese into 20 equal cubes. Press the biscuits out with your fingers and sprinkle each with 1/2 teaspoon of cinnamon sugar. Place a cube of cream cheese in the center of each biscuit, wrapping and sealing the dough around the cream cheese. Sprinkle 1/2 cup of the nuts into the bottom of the bundt pan. Place half of the prepared biscuits in the pan. Sprinkle with cinnamon sugar, pour half of the melted butter mixture over the biscuits, and sprinkle on 1/2 cup of nuts. Layer the remaining biscuits on top, sprinkle with the remaining cinnamon sugar, pour the remaining butter mixture over the biscuits, and sprinkle with the remaining 1/2 cup of nuts. Bake for 30 minutes. Remove from the oven and cool for 5 minutes. Place a plate on top and invert.
As a descendant of the King Family, family recipes are always fun.  Here's a great recipe for Pumpkin Pancakes out of our King Family Cookbook.
Pumpkin Pancakes
Makes 5 dozen small 2″ pancakes
1/2 cup solid packed pumpkin
2 eggs
1 cup milk
2 Tbsp. sugar
1 3/4 cup Bisquick
1/2 tsp. nutmeg
1/2 tsp. ginger
1/4 cup salad oil
1/2 tsp. cinnamon
Beat eggs in a small bowl on high speed for 5 minutes, or until thick and lemon colored.  Add oil and pumpkin. Mix. Sift and stir in remaining ingredients.  Pour batter onto hot, ungreased griddle.  Serve with hot Apple Cider Syrup.
Apple Cider Syrup:
1 cup sugar
2 Tbsp. cornstarch
1/2 tsp. pumpkin pie spice
2 cups apple cider or juice
2 Tbsp. lemon juice
1/4 cup butter
Mix sugar, cornstarch, and spice in saucepan.  Stir in cider and lemon juice.  Cook, stirring, until thickens and boils for 1 min. Remove from heat and blend in butter.